Garbage Disposal Repair Miami
Sometimes disposals get filled with too much food and waste that it could stop working. You can rely on us to assess and repair malfunctioning garbage disposals so you can get your kitchen back up and running.

Check for clogs or obstructions and clean out any you find

Failure to plug in the appliance is by far the most common source of problems. Make sure its plugged in and not loose

Never use chemical drain cleaners with a garbage disposal. These chemicals rarely work, leaving you with a sinkful of toxic chemicals.
Garbage Disposal is Not Working
You would have noticed certain signs that show that the washer is truly faulty and therefore, it needs repair. There are lots of signs that could signify that your washer is broken; hence, it is important for you to pay close attention to these signs.
Just like in most other appliances, if strange noise is coming out of your washer, there is great possibility of it being faulty and this could be as a result of straining of the motor due to overloading of the washer. Reducing the load of clothes in the washer could be helpful but most times, you need the service of a technician to make it work properly again. At Miami Appliance Repair we'll help you to get it fixed for the best quote here in Miami, FL .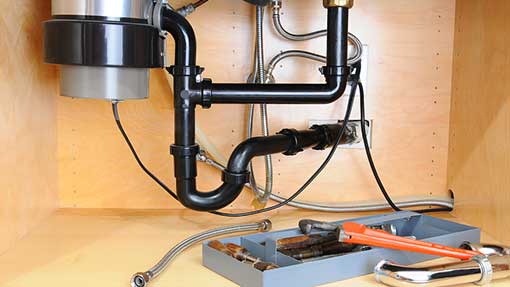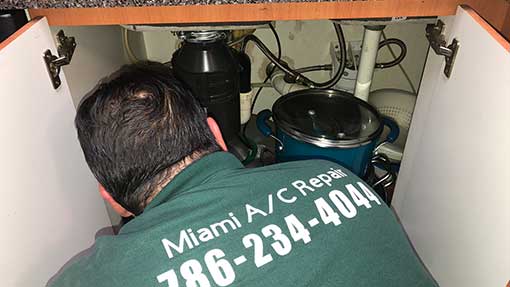 There is absolutely nothing more important than fixing your garbage disposal leaks quickly so that any plumbing system backup can be relieved. Do not fix this yourselves. We are trained experts in Miami,FL , we deal with most brands and sizes of residential garbage disposals.
Common Issues:
Worn out seals that can cause leaks so that health concerns are not an issue.
Jams that happen when hard-to-grind food and other items cause the garbage disposal blades to malfunction.
Burned out motors that cause humming noises.
Units that do not work at all.
Units that will not drain.
"Jimmy Hernandez was persistent in determining the cause of two refrigerator problems. He fixed both and I'm happy with the result."
"This company was available the same day I called and found the part I needed and came back to repair the same day."
"Very friendly and on time Works well with the customer and listens. Did work for quoted priec"
All The Brands We Serve
Admiral
Amana
Bosch
Magic Chef
Electrolux
Estate
Fisher & Paykel
Frigidaire
GE Monogram
General Electric
Gibson
Hotpoint
Jenn-Air
Kelvinator
Kenmore
KitchenAid
LG
Magic Chef
Maytag
Miele
Roper
Samsung
Speed Queen
Sub-Zero
Tappan
Thermador
U-Line
Viking
Westinghouse
Whirlpool
Wolf
Appliance Repair Miami Tips

An appliance is a device that makes life easier by enhancing you to do all the work you want to do at a faster rate and more efficiently. There are different types of appliances that could be found in various homes today such as microwave, dishwashers, ovens, refrigerators, washers, dryers, stoves and many other types which I did not mentioned. Unless the appliance breaks down, you can never think of repairing it. Appliance repair is very expensive. When your appliance breaks down, what will first come to your mind is to reach out to an expert on such appliance that can assist you to repair the problem.
Moreover, most of the problems that occur on your appliances can be resolved by you without wasting your time in calling any professional. All what you need to do is to have few knowledge of things concerning that appliances and let it be part of you. By so doing, you will be able to repair your appliances by DIY method.
Read More
If you want to become an expert in repairing your appliances by yourself, you need to get the appropriate tools for you to get the job done. Your suitable tools must include:
Screwdrivers: This must be a set of screwdriver that ranges from 4 to 5 in numbers.
A nut driver set: This will be useful because most of the appliances have nuts which must be loosened before the commencement of the repairs.
A set of different meters: This includes a voltage meter, an ohm meter and an amp meter.
Hose Clamps: This is useful whenever there is any appliance repair that is related to a water line.
However, if you want to be specialized on a certain appliance, it is very important to look for video or guiding manual on how to carry out the repairing task. If you know the exact problem of the appliance, then you can type it in Google search. For example, "How to repair appliances"? When this sentence is typed inside the search engine, different types of articles, websites, blogs that have any content relating to that sentence will pop up and this could guide you tot eh appropriate channel from online that can help you get some tips and demonstration on "How to repair appliances" quickly and appropriately.
Another way by which you can repair appliance is to go through the manufacturer's manual for such type of appliance where you can get series of information on "How to repair appliances". Some manufacturers do have PDF of the repair in their website where you can download and solve the problem by yourself.
Appliance repair doesn't look daunting as people considered it to be. You must have the basic tools and knowledge on how to repair your appliances. By so doing, you will save yourself time and money later in future. But if it's the case  that you think the repair is above your skill, it is recommended to call an expert to do the repair for you. Above all, ensure that you check if the appliance is not covered by any service agreement or warranty and make sure you know how to use the warranty very suitably. If you start with basics, then the problem is solved.